Will Josh Gordon do a "Puff Puff Pass" TD Celebration? This is a Prop …
Josh Gordon has been traded to the New England Patriots. Photo by Erik Drost (Wiki Commons)
Josh Gordon marijuana celebration bet is an all-timer
Will the receiver dare cross the 'Patriot Way'?
Gordon could debut for Patriots in Week 3 against winless Lions
---
There are prop bets, and then there are prop bets.
Bookmakers really outdid themselves on this one, with a prop you have to see to believe, involving new Patriots wide receiver Josh Gordon, who could debut with his new team this Sunday in Detroit against the Lions.
Odds Josh Gordon does "puff, puff, pass" touchdown celebration?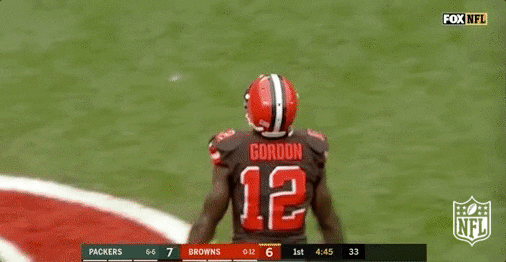 I know!
Clearly, this is something that we need to see, but is this actually in play? Let's have a closer look.
Paying homage to … himself?
Going back to his sophomore year at Baylor, there has been just one documented season in Gordon's career which hasn't been derailed by suspension or rehab – that was his NFL rookie season in 2012.
Even in his spectacular 2013 campaign, when he set the NFL on fire with 87 catches for 1,696 yards (led the league) and nine touchdowns, Gordon only played 14 games as he was suspended in Weeks 1 and 2 for violation of the NFL's substance abuse policy.
The Josh Gordon trade has Cleveland feeling some type of way pic.twitter.com/ZC7PCViNJz

— WTP Sports + (@WTPsports) September 19, 2018
Maybe the trade and tribute TD celebration is a chance to reflect on the past in a positive way – you know, by not actually smoking weed (which, by all accounts, hasn't worked for him), and simulating it. On a championship contender. Or something like that.
Hey, is too far to call it a woke celebration if he did it?
Legalize Marijuana! It's obviously good for you! Josh Gordon has been @NFL 's poster boy for addiction, while they peddle opioids to their players and denied claims of CTE caused by concussions for years! Frauds! pic.twitter.com/c1cGJRUOEN

— Sup_City (@Sup_City) September 15, 2018
Paying homage to … Cleveland?
In all fairness to the Browns, they did just about everything they could to steer the dude down a path where he could be a contributor week in and week out.
What if I told you weed would ultimately help Josh Gordon go from the worst organization in the NFL to the best in the Patriots. A 30 for 30 on the power of marijuana.

— Chris Williamson (@CWilliamson44) September 17, 2018
But the incident prior to their Week 2 game against the Saints, which seemed harmless enough, was the latest in a litany of 'my bads' and the last straw.
On Josh Gordon: He was late today to the facility, source said. In addition, he was fine at Friday's practice, then injured his hamstring. The question of how is part of the reason they released him. My understanding is it's an overall trust issue for a player on thin ice.

— Ian Rapoport (@RapSheet) September 15, 2018
A celebration using the ball as a joint could be seen as a peace pipe, proverbial ceremonial smoke he's sharing with the Browns. Sort of a "I really appreciate what you did, but it's time to spark it up in my new digs" kind of vibe.
Paying homage to … touchdown celebrations?
Have a look back at Gordon's TDs, and there's nary a celebration worthy of YouTube. In fact, it looks eerily like the sort of thing the Patriots players do now, in their annoyingly docile Patriot Way machine-like attitude (save a Gronk spike or four).
Gordon's best post-score entertainment was in his limited time in 2017. Suspensions meant his year started in Week 13. In Week 14, he scored his first TD in four seasons against the Packers. Take it easy, cool guy.
And while TD celebrations are a dime a dozen these days, this one would be memorable because it involved a real storyline.
Can you recall the last time you saw such a move? Has to be Terrell Owens and Spygate, right? Forgive the grainy footage – this YouTube video is nearly as hard to find as Jordan losing to the Magic in his first comeback season.
Will Gordon "Puff, Puff, Pass" in Week 3?
If yes wasn't already a long shot, how about this nugget from Patriots practice:
Josh Gordon's new #Patriots locker. Right next to the guy who will be throwing him the ball, Tom Brady. pic.twitter.com/8U8WjRtnSa

— Binge Sports (@BingeSports) September 19, 2018
If everything goes according to New England's plan, Gordon's going to be introduced to a new drug: TB12. If that's the case, consider that potential celebration going up in smoke.